Patterned Gold Colored Metal Fashion Bangles Set #POB-04822-A

This 15 pieces set of fashion bangles includes one wide patterned bangle with orange beads on it, 2 orange bangles have fabric on it, 2 have metal pattern on it & rest have glitter.

Fashion Bangles
Assorted Designs & Width
One Size
Hand Crafted
Beaded & Patterned
Gold with Orange Tone
Made in India
Brand: Unbranded
item# POB-04822-A

Wholesale Price:

$3.50

/set

Have questions? Call 323-583-4200
1 Additional Colors/Styles:


POB-04822 $3.50
1 Similar Styles: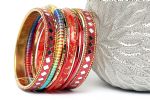 POB-04821-A $4.00
For more Jewelry - Bangles, click here.